You Hunt. You Ride. You Trust.
Simply put, Bowkaddy is a bow rack. It is not a gun rack that "doubles" as a bow rack. It is specifically designed to grip the limbs of your bow or crossbow. If you want to store or transport your bow without the hassle of a hard case, Bowkaddy does it more effectively than any other product. Regardless of your mode of transport, you can trust Bowkaddy to deliver your equipment safely and efficiently.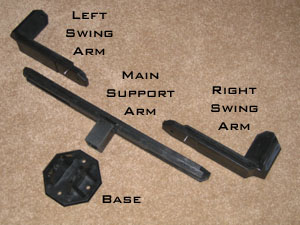 The patented design offers a host of features highlighted by versatility, practicality and security. As shown, it has four main components: an octagonal base, a main support arm, and two swing arms. Each part is injection-molded using high-strength plastic for durability, strength and lightness. Just how strong is it? Well, check out this torture test...
Bowkaddy comes complete with all the necessary fasteners for assembly and standard mounting.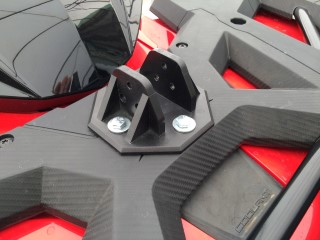 The base has four holes by which Bowkaddy can be mounted to a variety of surfaces. The simplicity of the base makes it adaptable to a wide array of mounting situations - wood, metal, plastic, fibreglass, etc. Typical applications are four-wheelers, UTV's, trucks, toolboxes, shop benches and display walls, to name a few. The picture at left shows the base fastened directly to an Arctic Cat ATV composite rack. Notice that the base can be fastened in two different orientations 90 degrees to each other.
The main support arm is fastened to the base and provides the structural frame of Bowkaddy. It has five lockable angular positions relative to the base, also adding to the mounting versatility.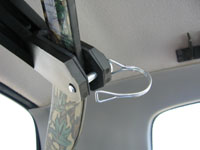 The left and right swing arms each fasten to the main support arm by means of a carriage bolt and wing nut. The swing arms are designed to provide maximum clearance of the bow riser so as not to contact sights, rests and other attachments. At the end of each swing arm is a fixed clamp which accepts the limbs of the bow during insertion. The rubber lining in the clamps provide the friction necessary to hold the bow securely in place. For added peace of mind, there's a hole in the top of each limb grip which can accept a locking pin or a padlock.
Maximum Versatility
When the original Bowkaddy came out a decade ago, it was designed to fit all makes and models of bows - compound, recurve, traditional long and even crossbows. But bows have changed immensely in the past 10 years...longer risers, more parallel limbs and generally more funky designs. To keep pace with the changing technology, the Bowkaddy molds were re-tooled in 2015.
Bowkaddy still boasts the patented swing arms which translate and rotate in an infinite number of positions. It is 1/4" wider, 1" longer (in compact mode), stronger in key stress areas and the limb grip angles were increased from 30 to 45 degrees. The result... a bigger, badder, better bow rack guaranteed to fit over 99% of all hunting bows ever made. In fact, of all the hundreds of bows put to the test, the only bow currently known to exceed the geometric range of Bowkaddy is the Hoyt Carbon Spyder ZT LD.
Practical and Accessible

Bowkaddy works great for those times when you want your bow handy, yet protected. No longer do you need to carry your bow loose inside the vehicle or strapped precariously to your four-wheeler. And forget that bulky hard case. They take up precious space on your off-road vehicle, often involve some bow/quiver disassembly and generally take time away from your hunt. It only takes a few seconds to retrieve your bow from Bowkaddy. Now you can have the best of both worlds - protection AND accessibility!
It should be noted that some states and provinces require a bow to be "encased" during transport. Traditionally, this has restricted hunters to deal with that aforementioned hard case. Good news - Bowkaddy, when used in conjunction with the Full Bow Kover, is an approved alternative to a hard case in these jurisdictions.
Practically the perfect accessory when you're traveling the trails, Bowkaddy also offers significant value during the off-season. Bowkaddy can be removed from your vehicle and fastened to your workbench to facilitate inter-seasonal "tweaking" of your archery equipment. Or mount Bowkaddy on your trophy wall to showcase your favourite bow.